Robotics & AI 2020 Meeting &amp Hospitality
Address
International Conference on Robotics and Artificial Intelligence
Prague, Czech Republic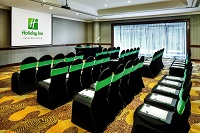 The City
Prague, the capital of the Czech Republic, has a natural, magical draw that fascinates millions of tourists every year. Prague is the beating heart of Europe, with cathedrals, castles and cruises on the quiet Vltava. It is the 14th largest city in Europe and has a rich architectural heritage. In addition to the cultural life and monument, Prague also plays an important role in economic life.
The main tourist attractions on the city include Dancing house which is famous because of the architecture of the two-building complex is quite popular due to its quirky style. Other tourist attractions include Prague Castle, St. Vitus Cathedral, Astronomical Clock, Charles Bridge and many more.
A walking tour of this part of the city is recommended in July. After World War I, Prague became the capital of Czechoslovakia and became an important city for the Habsburg Monarchy and its Austro-Hungarian empire. The Prague castle is the largest castle in the world of about 130-metre-wide medieval castle and its 70,000 square meters of land attract almost 2 million visitors every year and have landed it a spot in the Guinness Book of World Records. The Vltava is the longest river in the Czech Republic and runs through Prague. Petrin Tower resembles like an Eiffel Tower, but only 60 meters tall. Prague is out there sparkling in all its glory and recognized as one of the most beautiful, enchanting cities in Europe. The sixth most visited city in Europe is Prague. There are around 1.262 million people living in the Czech capital, and it is host to over 6 million tourists every year.
Directions
Route Map